Medieval Handgonne - American Hasta Brand
Handgonne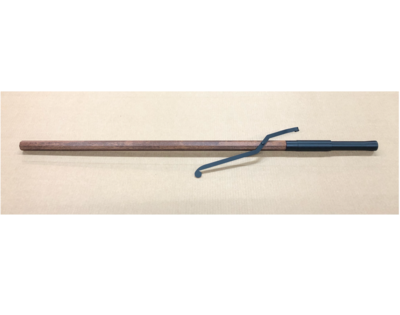 Muskets
Medieval Handgonne from American Hasta - Made in the USA
Made in the USA from only the finest American made materials, American Hasta's new reproduction Medieval Handgonne accurately represents the weapons that changed the world at the dawn of the gunpowder age.
History
Although the exact details concerning the origins or arrival of gunpowder in Europe remain shrouded in mystery, what is certain is that by the early 1300's experiments with primitive cannons were taking place all over the continent. These early cannons were known to the English as "gonnes."
When the idea of miniaturizing a gonne was formed is likewise a matter of significant historical conjecture. The earliest known visual depiction of a handgonne dates from 1343.
The handgonne's initial form was that of a tube of bronze or iron, closed at one end, and affixed to a pole. These early handgonnes had no lock mechanism and were ignited with a wire heated in a brazier or with a piece of matchcord. The propellant used was known as serpentine powder and was mechanically mixed from its constituent parts.
Around the year 1400, the first crumbled or corned gunpowder began to be used. It was more explosive and improved the handgonne's power and range, but it could not be used as a fuse in the same way that serpentine powder had been Soon S-shaped levers designed to hold match without exposing the shooter's hands began to be fitted.
The relative cheapness of the handgonne to produce combined with the short time required to train gonners made them attractive additions to the medieval arsenal. By the second quarter of the 15th Century, they had become a fixture with virtually every European force. Their simplicity also saw that their period of use was prolonged. A few obsolete handgonnes were even listed among the armaments carried by Christopher Columbus to the New World in 1492.
The Reproduction
Made from only the finest materials including a 75 caliber barrel of high quality 4140 steel and stocks of American hardwood, these pieces are representative of the type of pieces common in the early 1400's. They are fun to shoot, make for an excellent conversation starter at the range, and are a fine addition to any historical firearms collection.
The twelve inch long, 75 caliber barrel can be fired either with or without the use of the included S-shaped lever.

Made by American Hasta LLC in the USA.
Shipping for this item is $35.00 to all locations in the continental US. Orders for multiple items will be combined after checkout in order to reduce shipping costs and the overage refunded. For more detailed information on shipping charges, please see our Shipping Information and Terms & Conditions of Sale. Georgia residents must pay 8% sales tax.

I am at least 18 years old and agree to Veteran Arms LLC's Terms & Conditions of sale. (0)